6 Reasons to get Gynecomastia surgery by 1 of the Top Cosmetic surgeon Dr Sandip Jain in India
Dr Sandip Jain has earned the reputation as one of the top Gynecomastia plastic surgeons in not only India but across the other Countries as well.
Male gynecomastia is a condition that affects more than a third of the world's total male population. The good news is that men who suffer from gynecomastia are not without help, especially since there are a number of ways to deal with such condition. Due to genetics, use of certain medications, or other unspecified reasons, some men develop the appearance of enlarged breasts. It is estimated that up to 50% of men in the United States experience some degree of gynecomastia during their lifetime. Gynecomastia can present at any age, and male breast reduction can be performed safely and successfully on teenagers and adult men alike.
Different types of gynecomastia surgery:
Tissue-excision surgery:
The male breast enlargement is primarily caused by excess glandular tissue that can be only removed with a small curved incision positioned within the lower edge of the areola complex. To prevent indention or hollowed appearance of the areola, surgeons leave enough amount of tissue beneath the nipple area.
Skin-excision surgery:
Patients with excess glandular tissue also tend to have loose skin that can droop too low that it hangs past the breast crease. To correct the redundant skin, an incision is made within the "natural fold" that hides the scar.
Nipple graft:
If the areola complex or the pigmented part of skin falls far below the breast crease, the technique is necessary to achieve the most natural result possible. However, it is often reserved for patients who need the most correction, i.e., those with an excessive amount of redundant skin. But freeing the nipple and relocating it to a higher position often results in partial numbness of even complete loss of sensation. However, in many cases some sensation can return several months or even years after surgery.
Liposuction or fat removal surgery:
The excess fat in the male breasts tends to be extremely fibrous and harder to treat compared to other areas of the body. But still, liposuction alone can provide good outcome as long as the skin has enough elasticity that will allow it to retract over time. Tumescent liposuction is the most ideal technique in which the breasts are injected with a solution to make the fat swollen, resulting in a more effective and faster fat extraction. Doctors use a few small incisions about the size of grain of rice to suction the fatty tissue out. While liposuction results in shorter recovery and barely noticeable scars, it cannot remove the loose skin and excess tissue.
Liposuction with tissue resection:
Male breast enlargement is often caused by excess fat and tissue that most cases of gynecomastia are corrected by the technique. But to enjoy good results with the technique, a patient needs to have a good skin elasticity to allow it to retract once the fat and excess tissue is removed.
Top 6 reasons for Gynecomastia surgery by Dr Sandip Jain in India:
Over 10 years in gynecomastia specialty: There are only a handful of plastic surgeons in the India that specialize in Gynecomastia surgery, Dr Sandip Jain being one of them. With over 20 years experience performing gynecomastia surgery, Dr Sandip Jain 's techniques have advanced beyond the basic techniques surgeons use, making him one of the most sought out gynecomastia surgeons in the world.
Over 250 gynecomastia surgeries per year: Dr Sandip Jain performs over 250 male breast reduction procedures each, which has allowed him to develop surgical routines that yield predictably good results. In fact, the procedure has become so advanced and efficient that most of the procedures are done under local anesthesia while the patient is watching movies on Netflix.
Deep understanding of gynecomastia condition: Gynecomastia surgery is considerably different than all other types of plastic surgery. This is why Dr Sandip Jain created this site. It is exclusively devoted to provide expert gynecomastia diagnosis, treatment options, and surgical information. Recognized as a leader in the field of gynecomastia, Dr Sandip Jain's practice has blossomed into an international destination for men looking for optimal treatment.
Creator of The Cruise Classification System: The Cruise Classification System is a tool where Dr Sandip Jain educates men about the different types of gynecomastia and the recommended treatment options for each. This type of classification system is the first of its kind, and shows the deep understanding Dr Sandip Jain has about gynecomastia.
Focus on safety and comfort: Dr Sandip Jain has perfected gynecomastia surgery to the point where most surgeries can be performed under local anesthesia in a comfortable, relaxing setting. For severe cases of gynecomastia, surgery is performed under general anesthesia.
Extensive before and after photo gallery: Dr Sandip Jain has one of the most comprehensive before and after photo galleries on the Internet.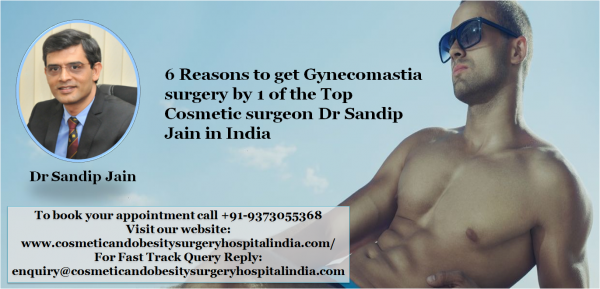 Dr Sandip Jain has earned the reputation as one of the top Gynecomastia plastic surgeons in not only India but across the other Countries as well. Dr Sandip Jain Best gynecomastia Surgeon in India, goal is to offer the best male breast reduction surgery experience in India with superior results.
Find out more about Gynecomastia plastic surgery and make your surgery experience memorable and life changing visit: http://www.cosmeticandobesitysurgeryhospitalindia.com/doctors/consult-dr-sandip-jain-best-cosmetic-surgeon-mumbai-address-phone-number-email-id.php
Call Us- +91-9096436224
Related items: